Just over a year ago I took over the role of Chair, so this is my first report to you. It has been another very busy, challenging and rewarding year for the group. The new Committee agreed the top priorities for the year at their first meeting and have worked very hard to ensure that we could fulfil our commitment to them. I have therefore reported under each of these agreed priorities.
Helpline – response and rescue
For the year 1st January 2015 to 31st December 2015 our 24/7 Helpline received 395 calls. This was just 31 calls less than the previous year. The number and the percentage calls relating to badger rescues,
sett problems and badgers causing problems in gardens all increased. Our busiest month was April when 70 calls were taken. For the first three months to end of March 2016 the Helpline received 92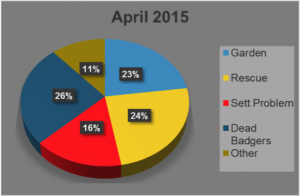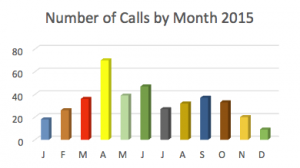 calls. It is I believe a worrying trend that the number of persecution related calls so far this year has also increased. In addition hundreds of emails were responded to giving help and advice. I would like to thank everyone who has been involved in manning the helpline, responding to badger rescues, following up badger related problems and answering emails for the truly sterling commitment they have shown. Without their continued help the 24/7 Helpline would not be the fantastic service it is today.
Committee – clear roles and responsibilities
The new committee were very keen from the outset to clarify their roles and responsibilities to ensure as a committee we could continue to steer our group correctly and effectively and to ensure that key tasks were properly delegated. Maria Slade, Tristan Cooper and Will Cruze, new younger members, were co-opted onto the Committee and have continued to develop their experience in taking part in presentations, representing the group at events and being involved with Somerset Environmental Records Centre (SERC) helping to record sett data. Again my sincerest thanks go to all our Committee members who have given so much of their time and expertise.
The badger Cull
During 2015 despite significant opposition from scientists, conservation organisations and members of the public, the badger cull was rolled out to Dorset. Since the culls started three years ago 3961 badgers have been killed at an estimated cost to the taxpayers (for the first 2 years) of £25Million. In 2015 Defra announced it wanted to amend the guidance to Natural England on issuing licences for the cull, effectively significantly relaxing the criteria making it easier for licences to be granted. In 2016 the government also announced it would be rolling out the culls further and Natural England confirmed they had received applications or expressions of interest to cull badgers covering another nine counties. Public consultations were instigated and our group responded to both consultations giving strong evidence-backed reasons against relaxing the criteria and rolling out the culls. We have also continued to raise public awareness through participation in television and radio interviews, as a member of Team Badger, presentations at public meetings, protecting vaccinated badgers within the West Somerset cull area and supporting Somerset Badger Patrol. Sadly 2016 is likely to see the cull being further rolled out to West Dorset including a contiguous area of South Somerset, Devon, Cornwall, Herefordshire and North Cotswolds. Many more thousands of badgers are likely to be killed and our group will remain steadfast in our opposition to them and raising public awareness.
Badger vaccination
2015 saw another very successful year for our badger vaccination initiative. 128 badgers were vaccinated, 96 adults and 32 cubs. This brings the total number of badgers vaccinated to 364 across 19 sites, totalling around 5500 acres including 9 commercial farms and a Somerset Wildlife Trust Reserve. We also worked collaboratively with both Dorset Badger Vaccination Team and Devon Badger Group to vaccinate badgers on a 300 acre organic farm in Devon. We are privileged to have a fantastic team of trained Lay Vaccinators and volunteers who put in many hours to achieve this fantastic result. Sadly we are unable to continue our badger vaccination initiative this year (2016) due to production issues and a world shortage of BCG vaccine. However the team have continued to stay in touch with the farmers
and landowners and to take part in a wider badger vaccination forum to share best practice. We remain hopeful that we will once again be able to carry on with our vaccination initiative in 2017.
Training and raising awareness
Training Event – In November we held a very successful training event in conjunction with Secret World Wildlife Rescue (SWWR) and the Devon Badger Group. With the help of Pauline Kidner (Founder of SWWR), Michelle Gunn, veterinary nurse and members of the Committee, the training covered safe badger rescue and handling techniques, initial assessment, ongoing care and helping to support the 24/7 Helplines. A total of 39 people attended. We intend holding another training event later this year.
General Meetings – At the suggestion of one of our members April Dunnett, and to continue the theme of increasing members' knowledge, we changed the format of our general meetings. Members can offer to give a 20 minute presentation on a badger related subject and so far we have had presentations on what badgers eat and on research carried out by Tristan Cooper for his degree relating to badger behaviour and weather conditions. Both presentations were very well received and our plan is to continue with these. The next one will be presented by Andy Parr on how the Lancashire Badger Group combats persecution in Lancashire.
Attendance at Events – Our group attended a number of events during the year including supporting the SWWR Badger Bonanza and presenting at a Bridgwater College's mini conference entitled "Join In". The objective of the mini conference was to encourage students studying applied animal management, animal conservation and countryside management to volunteer, join societies and generally become involved. Our group's presentation given by Maria Slade, Tristan Cooper (both ex-graduates) and myself covered what the group does, 24/7 helpline, badger vaccination, badger rescue, collaboration with others, what we offer and opportunities to join in.
New website and social media – Earlier this year we finally launched our new website which has made accessible to the public, a significant amount of very useful information about badgers. Working closely with Chris Bates-Keegan and his wife Jo who run a website development company and who are also very involved with the Lancashire Badger Group, we have been able to create a fantastic, user-friendly website. My grateful thanks go to them and all those who contributed both content, photographs and videos.
Louise Matthews took over the administration of our group's social media and has done an amazing job of updating our social media presence and image through the use of interesting and current posts, photographs and videos. Currently we have over 3,500 followers on Twitter and over 2,200 people who have like our Facebook page. The internet and social media are so important now to reach the younger generation, so the effort put into our website and social media has been really important in making sure our reachability is maximised.
Fundraising and finances
Our Treasurer, Hazel Woods' report provides much more detail on our finances, but I can report that we received just over £571 in direct donations to our Working Account and just over £292 from donations added by members when paying their subscriptions.
We also received significant donations towards our badger vaccination initiative. My thanks in particular go to International Fund for Animal Welfare (£2,500), Somerset Wildlife Trust (£1,000), SWWR – Badger Protection League (£6,177.83) and also David and Rachael Stevens who sold Sam Cannon cards ad Alison Hickman photographs to raise funds for our initiative.
This means that our group is in a good financial position to carry on the fantastic work that it does and I would also like to thank Hazel for her continued support as Treasurer looking after our finances over many years.
Collaboration and Partnerships
We have continued to build on our collaboration and partnerships with other organisations. A very special thanks has to go to the dedicated staff and volunteers of SWWR who have continued to ensure that the badgers and other wildlife we have rescued are given the best possible chance of being released back into the wild. Volunteers from SWWR also continue to support the badger vaccination initiative.
Our group has also continued to work very closely with Devon Badger Group, with both groups sharing their expertise and resources. A number of members now belong to both groups and I am confident that this collaboration will continue to develop way into the future.
Since the culls started we have received an increased number of calls about illegal sett blocking, snaring and shooting incidents. This is in part due to people being much more aware of what is happening in their neighbourhood. However, there is also a concern that the actual level of persecution is on the increase. Over the last year our group has been involved in a considerable amount of follow-up involving the Avon & Somerset Police and Devon & Cornwall police, Natural England and other organisations. By working with others more effectively we have been in a much better position to highlight the illegal activity and to ensure appropriate follow-up.
This year the Committee invited Paula Hewitson, Manager of SERC to explain how SERC collects and uses data. As a result of that meeting we decided to enter into a data sharing agreement with SERC so that our sett records can be used to be the best advantage in protecting badgers and their habitat. It also gave Will Cruze, who at 18 is our youngest committee member, the opportunity to work with the staff at SERC to ensure the large number of historical sett records received from the late Clem Clements were accurately recorded onto the SERC database. SERC were also able to help us by sharing sett records when we were following up concerns raised by a members of the public.
The Future
Writing this report has served to remind me that our group has continued to achieve so much to help badgers and to help raise people's' awareness and appreciation of these amazing animals. I firmly believe, thanks to the dedication and support of all our members, the group will continue to go from strength to strength. With the threat of further roll out of the culls, increased persecution, continued high levels of development of green-field sites, the future for the badger is a real concern. However, I know that everyone in our badger group will continue to do their very best to help make sure the badger continues to be a major part of our lives. Thank you all so much.